AGI Corporate Forum – AGI Engages the Minister of Finance
AGI Corporate Forum – AGI Engages the Minister of Finance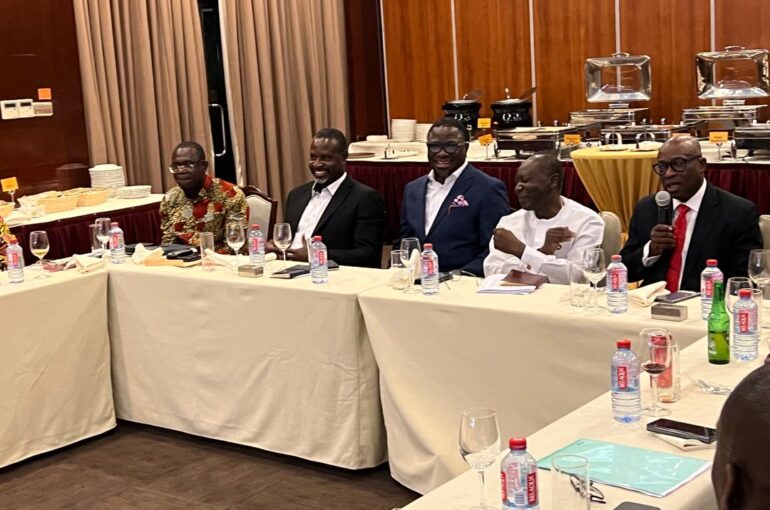 The AGI Corporate Forum hosted the Minister of Finance, Hon. Ken Ofori Atta at the Tang Palace Hotel yesterday.
The meeting was a follow-up to a meeting with the President of the Republic, HE Nana Addo Dankwa Akuffo Addo at the Jubilee House where the Minister at the meeting pledged to engage the Association to find ways to address the current economic challenges.
Dr. Humphrey Kwesi Ayim Darke, opened the Forum and indicated that the Corporate Forum is one of the key advocacy platforms that engage policy-makers to address current issues confronting industries.
He said "the economic challenges confronting industries today, calls for broader and inclusive consultation to provide workable solutions to complement governments efforts".
He called for long term measures to prevent fall of the Cedi and the sure way to go is for Government to support industries to accelerate production for export.
The Minister of Finance expressed his appreciation for the opportunity to engage industry players directly. He said the Government is very ready to engage industries to find workable solutions for the current state of the economy.
Some of the key industrialist at the forum were Dr. Tony Oteng-Gyasi, past President of the Association and Chairman of the Board of GRA, Dr. Joseph Siaw Agyepong, CEO of Jospong Group, Mr. Gopal Vasu, CEO of M&G Pharmaceuticals, Mr. George Owusu-Ansah, CEO of Unilever Ghana.
Over sixty (60) Chief Executive Officers of category 1 and 2 members of the Association attended the forum and the event was sponsored by Hollard Insurance.