Agi/Gea-Mastercard Foundation Business Seminar And Job Fair
Agi/Gea-Mastercard Foundation Business Seminar And Job Fair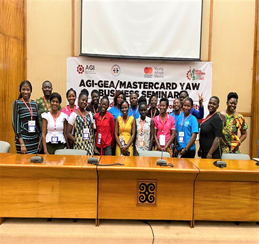 The Ghana Enterprises Agency (GEA) in collaboration with the Association of Ghana Industries (AGI) recently organized a business seminar and job fair for young aspiring entrepreneurs in Accra. The program, which was part of the Business Seminar and Job Fair Apprenticeship2Entrepreneurship (A2E component) of the GEA/MasterCard Foundation's Young Africa Works program, aimed to equip young people with skills through apprenticeship and transition them into entrepreneurship.
The AGI, with support from the GEA, selected 100 MSMEs from a pool of small businesses in Greater Accra and its environs to participate in the program. These small businesses included start-ups with little business experience, and the program aimed to provide them with the necessary skills and knowledge to succeed in their entrepreneurial journey.
To achieve the program's overall objectives, presentations, breakout sessions, questions and answers were used as methods to accomplish success. These sessions aimed to provide young entrepreneurs with the necessary knowledge and skills to build successful businesses, navigate the business landscape, and access financial support. At the close of the event, a number of recommendations were made, including the suggestion that young entrepreneurs be thoroughly prepared for future seminars and job fairs. Additionally, it was suggested that improved coordination between government institutions such as the GEA and private business associations (AGI) would facilitate the achievement of greater and more impactful results
The business seminar and job fair were held during the three-day Ghana Industrial Summit and Expo 2021 (GISE) organized by the AGI from 17th to 19th August 2021 at the International Conference Centre in Accra. GISE 21 aimed to bring together captains of industry, policymakers, international industrialists, and entrepreneurs to discuss pertinent issues confronting the industry and propose cutting-edge solutions to propel it forward. The summit also encouraged networking between indigenous industrialists and their international counterparts for knowledge sharing and exchange of best practices in the industry.
In conclusion, the A2E program was a great initiative that sought to equip young people with skills through apprenticeship and transition them into entrepreneurship. The partnership between the GEA and AGI is commendable, and the program will undoubtedly have a positive impact on the growth and development of small businesses in Ghana.
PARTICIPANTS OF THIS PROGRAM ARE AS FOLLOWS
Mabel Anyigbah

Sandra Owusu-Mireku

Anita Obeng Boakye Yiadom

Deborah Ansah

Joyce Clottey

Selina Osei-Poku

Rosina Dzugah

Clement Nuda Okyere

Ruby Ashong

Favour Attandze

Sandra Osei Bonsu

Abigail Wettey

Sharon Oduro Temeng

Eunice Patukaduut

Sylvia Donkor

Gifty Dwomoh

Rebbecca Kesewa Ampomah

Helena Ama Amonoo

Sandra Atsu

Rebecca Yartey

Webdy Twumasiwaa

Abigail Torgbor

Philomina Addison

Faustina Abraham

Abigail Aryee

Stacey Kwafo

Olasehinde