Enhancing The Efficiency Of Food And Beverage Businesses
Enhancing The Efficiency Of Food And Beverage Businesses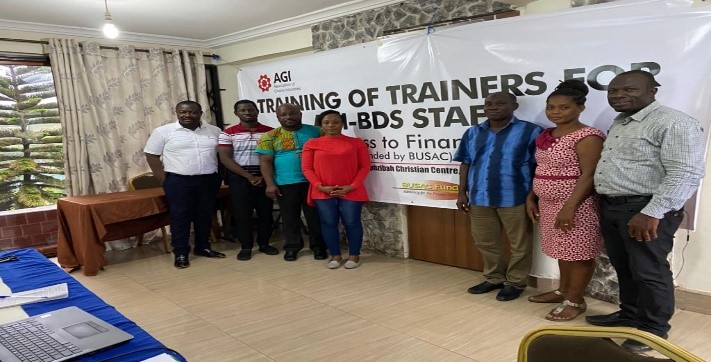 The Business Development Service department of the Association of Ghana Industries (AGI) with funding from BUSAC and support from the international development cooperation run by the Embassy of Denmark, USAID and the European Union, organized a training program titled "Enhancing The Efficiency of Food and Beverage Businesses".
The subject and content of the training were developed based on the outcome of the Training Needs Assessment and the experiences of the consultant in similar assignments. A survey questionnaire was developed by the consultant and administered within Kumasi (Ashanti Region) and Takoradi (Western Region) to begin the training and twenty (20) MSMEs responded to it. Following the outcome of the Training Needs Assessment, the training was divided into two sections; Training Of Trainers and the Training for SME members of AGI.
The Training of Trainers (ToT) was held from 22 – 25 September 2020 and held at the Hephzibah Christian Centre, while the training for SME members of the Association of Ghana Industries (AGI) was held from 30 September – 2 October 2020 at the Ghana Library Board Conference Centre in Takoradi. The training involved formal and interactive presentations with PowerPoint slides, brainstorming sessions, and group assignments.
This training was organised to enhance the ability of Micro, Small and Medium Enterprises (MSMEs) to access finance and to equip owners of small and medium businesses with relevant financial skills including bookkeeping.  Other objectives of this training was to encourage responsible borrowing from SMEs in order to reduce the incidence of default and to develop a large number of business executives within the SME space who are capable to meet the requirements of funding agencies and qualify for funding.
Overall, the trainings held in Accra and Takoradi were very helpful, and through the ToT, AGI will continually provide advisory support and coaching to members about what has been taught during their training session and further extend support to other members.