AGI Cosmetics & Toiletries Sector Meeting
AGI Cosmetics & Toiletries Sector Meeting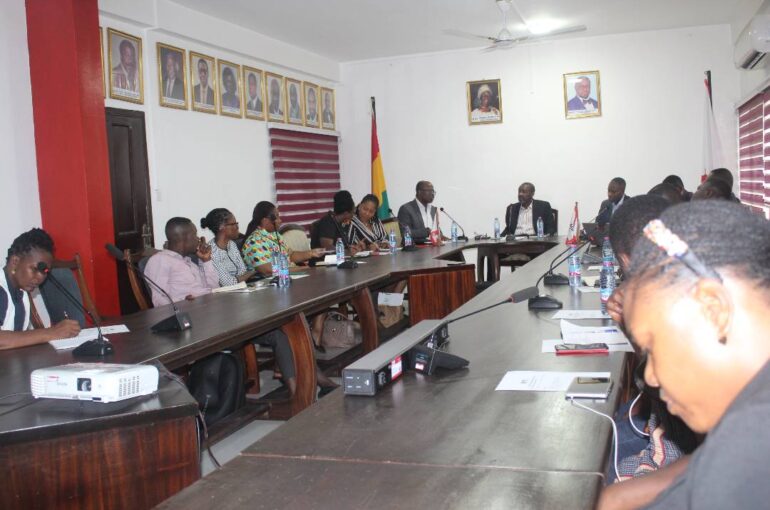 AGI COSMETICS AND TOILETRIES SECTOR MEETING
Members of the Cosmetics and Toiletries Sector of the Association of Ghana Industries (AGI) held a meeting to address the state of the sector by discussing among other things, constraints confronting the Toiletries and Cosmetic industry in Ghana and the way forward. 
The Sector chairman, Mr Sandy Osei Agyemang, was in attendance together with executives of FT Cadmond and Associates and representatives of member companies within the sector.
In his opening remarks the Sector Chairman, Mr Sandy Osei Agyemang observed that despite the dynamic outlook of the sector, it also encounters several challenges. Outlining some challenges, he began by saying that, particularly in terms of verification systems and the chemical Knowledge on the part of end users' education is lacking.
He stressed that manufacturers are responsible for educating their consumers on how to identify valid and approved products on the market and provide the necessary skills required for the usage of products within the industry.
"The lack of education within the industry largely accounts for what has become the infiltration of illegal and unapproved products into the Ghanaian market.  People within our industry must be trained in the application of cosmetic products since these substances are mainly chemical based which can be harmful to the health and physical conditions of consumers if applied wrongly."
According to Mr Agyemang, the inability to source appropriate raw materials for products also compels producers to import inferior primary materials from abroad. He added that consumers of the industry are more likely to patronise foreign brands over local ones due to substance quality. He advised that producers must acquire in-depth knowledge about the chemical contents within their products before churning them out into the market.
Lastly, Mr Agyemang also highlighted cost and selling prices major as a reason for concern saying "There must be realistic pricing based on a true assessment of factors including freight, packaging and duty among others."
" Manufacturers should not succumb to the fear of losing markets or fear of competitors' lowered pricing due when charging at an accurate price. This is a clarion call to all producers to sell based on cost and product's worth and not fear and emotion."
He however noted the high prospects of the industry which has a worldwide industry worth 89 billion dollars while growing globally at 6% annually. With these figures, the Sector Chairperson believes that based on global market value, Ghana's market is likely to be valued at around 5 million dollars annually.
He, therefore, called on the government to support the industry as it is in the case of the Western world. There was a representation by the executives of FT Cadmond and Associates delivered on Tax Audits for SMEs.